Reading Data
Introduction
The first task in any data analysis program like CurveExpert Basic is to read or import your data into the software. For this, CurveExpert Basic provides a robust file import mechanism, which can be accessed simply by choosing File->Open. You can read in both native CurveExpert files (.cxp) and generic data files in text format.
Note
To be able to choose files with extensions other than .cxp, you must select the appropriate extension in the bottom right corner of the file choosing dialog.
Most of the time, the data to be read in is contained within a text file of some sort, with headers and comments interspersed. CurveExpert Basic tries to make the job of importing this data as easy and painless as possible. The file import intelligently examines your raw file in order to find the data, as well as finding column headers for that data, if present.
Raw file import
To read in a text file (common extensions are .dat and .txt, but can be anything that you choose), simply choose File->Open, and then the filename. Alternatively, drag and drop the file to the CurveExpert Basic spreadsheet. The file import window will display, as follows: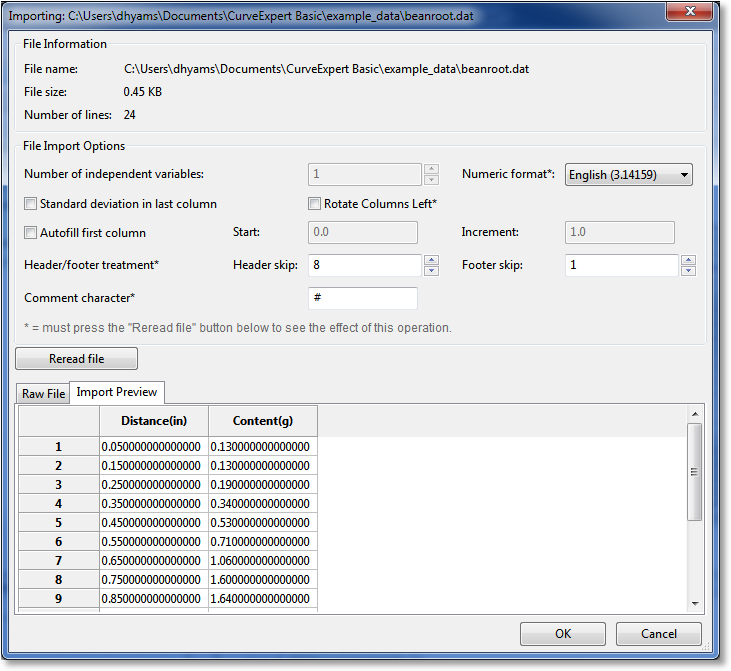 Basic information about the file is shown at the top of the window, where the complete path to the file, file size, and the number of lines detected in the file is displayed. The middle section of the window is where you set parameters necessary for reading in the file. Most of the time, default options are appropriate, and there is not much more to do except to glance at the spreadsheet preview in the bottom third of the window, and click the OK button. However, in cases where the defaults are not appropriate, there are a range of settings you can manipulate to read your file in successfully.
CurveExpert Basic files
CurveExpert Basic files contain the data, results, graphs, and notes (notes are available in CurveExpert Pro only). To save a .cxp file, simply choose File->Save or File->Save As as appropriate. Correspondingly, to read a .cxp file, choose File->Open.
These files are portable across platforms (Mac, Windows, and Linux), so you can read a file in on a Mac that was generated in Windows, for example. Also, .cxp files are compatible between CurveExpert Professional and CurveExpert Basic 2.0 or later. CurveExpert Basic can read CurveExpert Pro files, and vice versa.
Also, if a particular model or function is saved as a result in a .cxp file and it is not present on the system reading the file, the model/function will automatically be created on your behalf. This newly created model/function will then be available for use in the "Imported" family, and will appear appropriately in the Nonlinear model or function pickers.